Save the DATE : Santa Pod 5th July 2019 - Run your Mustang (or American Car) Day - NOW OPEN to all !

The club have now booked Santa Pod Raceway for the 5th July 2019, the gates open at 08:30 and close sharp at 10:30am and the day ends at 17:00, so please make sure you arrive with enough time to get into the circuit. There is a driver briefing at 09:15.
This will be the first time the MOCGB have hosted an event at the UK's Premier Drag Strip.
Ticket prices have been set at £35.00 for EVERYONE using the track (includes 1 Driver and 1 passenger) and an additional £5.00 a head for spectators.
If passengers want to drive as well, there is an additional charge of £5 (making a total of £10 per passenger) and then your passengers can have a go too !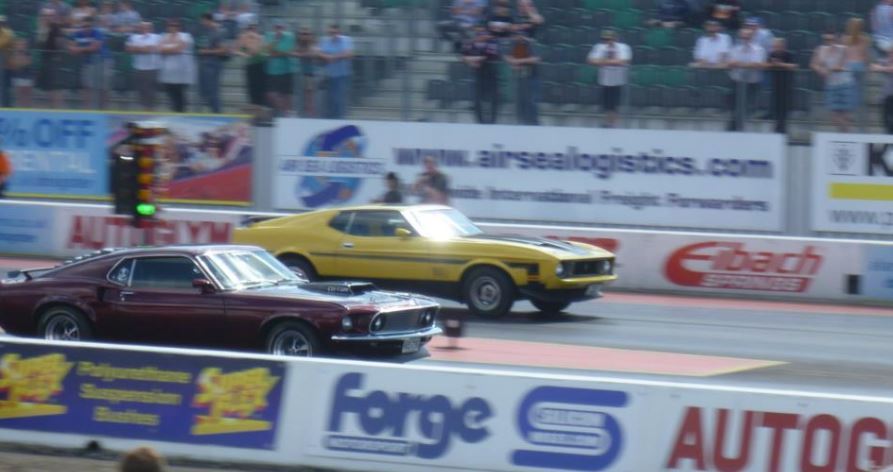 We have 100 race track slots available and these are available on a First Come First Served basis. After Easter 2019 we will be making track slots available to other American Car clubs at the same price as those above (1 Driver and 1 Passenger) extra Spectators are £5 and extra Drivers fee £5.
There is a limit of 100 track slots, to ensure there is not too much queuing for those racing, but also to make it interesting for everyone participating and watching.
This is a pre-booked event only, to enable the fastest possible entrance, we require you to pre-pay your track and spectator tickets. We know sometimes things change, so additional spectator tickets will be available on the gate, therefore please bring the correct cash payment for any extra guests.
Some important  items to make your day a good one :
Only Mustangs or American cars please (anything else at the MOCGB Event organiser's discretion)
Kids under 12 will get in free but must be supervised at all times please.
Bring a crash helmet and a valid UK drivers licence
The SantaPod Canteen will be open for cooked food at breakfast and lunch time.
No Dogs. This is an active Race Track. You can read the venue's policy on Assistance Dogs here : Santa Pod Assistance Animal Page
Sorry but all payments are non-refundable if weather is bad or you cannot attend for any reason.
Add the relevant number of Driver/Car and Spectator tickets you need. While we use PayPal to process payments, there is an option on the main shopping Basket to Check Out without a PayPal account.
If you want to attend, but want to pay by another means other than online via PayPal. Please contact the Event Organiser Roy Stapleton for offline payment options.
After Easter 2019 non-MOCGB memmbers may book until the event is full. 100 Racing (American vehicles only please)
Non-Members please enter 'non-member' in the MOCGB membership box.
Driver Ticket £35
+ 1 Free Spectator
Spectator Tickets £5 
Additional Driver £5
We will send out more information closer to the event to the email address used on the PayPal payment. The same updates will also appear in the members section of the MOCGB forum.
You will need to show your PayPal receipt to gain access to the event. We will have a printed list of those that have paid, on the gate.
The MOCGB Events team look forward to seeing you at Santa Pod.